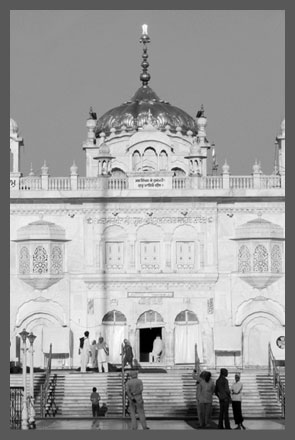 Nanded is the headquarters of Nanded district in the Marathwada Division of the state. Nanded is considered an important holy place for adherents of the Sikh faith; its best known landmark is the Hazur Sahib Gurudwara, a former Sikh palace. Dating back to antiquity, Nanded also has many Sufi shrines and a Hindu Renukadevi temple at Mahur.
How to reach Nanded

Air
Shri Guru Gobind Singh Ji Airport, Nanded offers daily flights to Mumbai, Nagpur, Trivandrum, Aurangabad and Delhi. Nanded has the distinction of having Marathwada's first airport.

Rail
Direct trains are available to Nanded from Mumbai, Hyderabad , Delhi, Amritsar, Aurangabad, Pune, Bangalore, Nagpur, Visakhapatnam, Kolkata, Tirupati, Patna, Sambalpur, Rameswaram, Ajmer, Sri Ganganagar and Thiruvananthapuram.

Road
Nanded is 651 kilometres southeast of Mumbai by road. It is on National Highway 222, about a five-hour drive from Aurangabad and an eleven-hour drive from Pune. Several passenger bus services operate from Nanded providing overnight service to most major cities in Maharashtra.
Institutes


College of Journalism & Mass Communication, Nanded
MGM's COLLEGE OF ENGINEERING, Nanded
MGM's COLLEGE OF COMPUTER SCIENCE AND INFORMATION TECHNOLOGY, Nanded



MGM's College of Computer Science & I.T. Nanded, was established in the year 2000 to provide education in the field of Computer Science, Biotechnology, Bioinformatics and Electronics to the people of under developed sector of Maharashtra.

The college is affiliated to Swami "Ramanand Teerth Marathwada University, Nanded". The college started with only two courses BCS and MCS but now offers courses like B.C.A., B.Sc. Biotechnology, B.Sc. Bioinformatics, M.Sc. Biotechnology, M.Sc. Bioinformatics, and M.Sc. Electronics. In a very short span, the college has developed well equipped Computer, Biotechnology, Bioinformatics and Electronics laboratories to enhance and encourage academic excellence. The college has become the first choice of students and parents seeking admission to various UG and PG courses in the field of IT, Biotechnology, Bioinformatics and Electronics. The college emphasizes on quality education that gives students an advantage to get jobs quickly in the best organizations.

Infrastructure

The college has Computer department with highly configured computer systems that provides the students the best environment to build their careers in the field of IT. The computer labs are managed with various servers with central log in and storage facility. The Basic Computing, Digital & Hardware lab, Advance Computing lab gives the students Windows and Linux environments that extend student's concepts beyond conventional computing environment.A special Multimedia lab has been developed for P.G. students through which students can implement all their innovative ideas very easily. The lab provides latest programming and designing tools. Handy practice sessions on these types of tools give the students the confidence and satisfaction about the knowledge they are acquiring.

Courses Offered: The Department of Biotechnology & Bioinformatics offers UG & PG courses in Biotechnology and Bioinformatics.

Facilities: Technical facilities available are UV Visible Double Beam Spectrophotometer, High speed cooling centrifuge, Deep freezer (-20°C), Laminar air flow cabinet, Cooling Shaking Incubator, Digital electronic balances, Water Purification unit, Gel Electrophoresis, Chromatography, Microscopy and Micrometry, Ultra Filtration unit, Plant and Animal tissue culture Facility. There are seven state of art laboratories namely Molecular Biology, Biochemistry, Bioprocess Engineering, Microbiology, Plant and Animal Biotechnology, Bioinstrumentation and Bioinformatics.

Biotechnology laboratory facilities to be made available soon are Gradient PCR Thermo cycler, Gel Documentation system, Fermenter, Inverted florescent tissue culture microscope, Fraction collector and Green House. Biotechnology department has undertaken research project on Biodiesel from Jatropha and planning to plant Jatropha in the campus.

Address:
MGM,College of Computer Science & Information Technology
MGM Campus, Near Airport
Hingoli Road, Nanded - 431605
Tel.: 02462-222592
E-Mail: mgmccsit_nnd@yahoo.co.in
MGM's CENTRE FOR ASTRONOMY AND SPACE TECHNOLOGY, Nanded
Centre for Astronomy and Space Technology - (The CAST). It is the need of the hour to popularize Astronomy and Space science in Marathwada region. No such center exists in this region at present. The weather conditions at Nanded are favourable for setting up an observatory for research as well as observation. This center aims at helping amateur astronomers in their observation related research and to develop scientific temper among common people.
The main objective of CAST is to provide a centre for excellence for teaching, research and development in Astronomy and Space Technology. To achieve these objectives CAST functions on several different fronts. The centre arranges courses as well as advanced level schools and workshops in topics of current research. This activity involves experts from India as well as from abroad. In addition, the Centre also takes up programmes for science popularization.
Address:
Centre For Astronomy & Space
Technology, MGM Compus, Near Airport
Hingoli Road, Nanded - 431605
Email: aundhkar_s@yahoo.com
MGM's COLLEGE OF LIBRARY AND INFORMATION SCIENCE Nanded.
The M.G.M's College of Library and Information Science was established in the year 2002 with the dream of nurturing & developing Library Professionals. Since inception, the MGM's College of Library & Information Science has been among the top most Library Science colleges in the region.
The Syllabus for the course is designed as per University Grant Commission guidelines to develop skillful Library professionals. Students are taught the most effective and advanced Library management techniques.
Outstanding professors & teachers are invited to speak on the current issues so that the young Librarians can keep abreast with the latest trends in the field of Library & Information Science.
Address:
MGM's COLLEGE OF LIBRARY AND INFORMATION SCIENCE
MGM Campus, Near Airport
Hingoli Road, Nanded 431605
Tel: 02462-222999, 223506